A Rebel Flag
The flag chosen by the miners to represent them at Eureka has now become one of the most famous symbols in Australian history. The flag shows a representation of the Southern Cross (Crux), a constellation of which appears in the sky all over the southern hemisphere. The five brightest stars of Crux have become represented in the design, although many dimmer stars are also part of the constellation.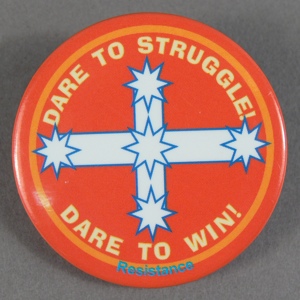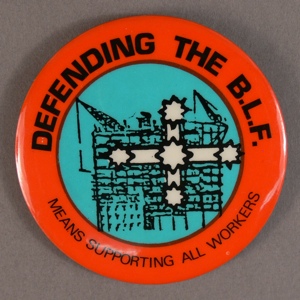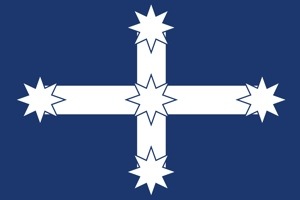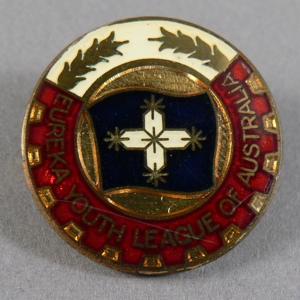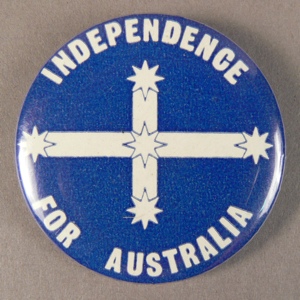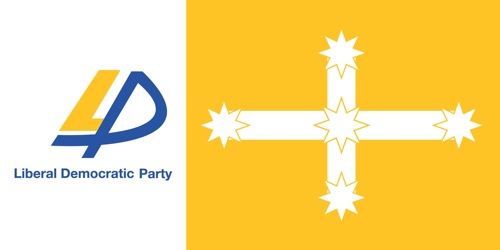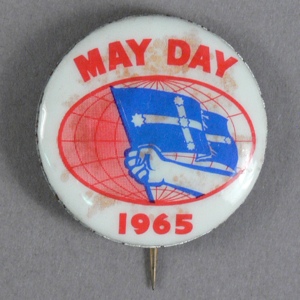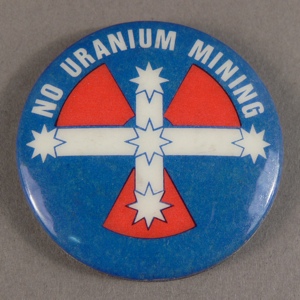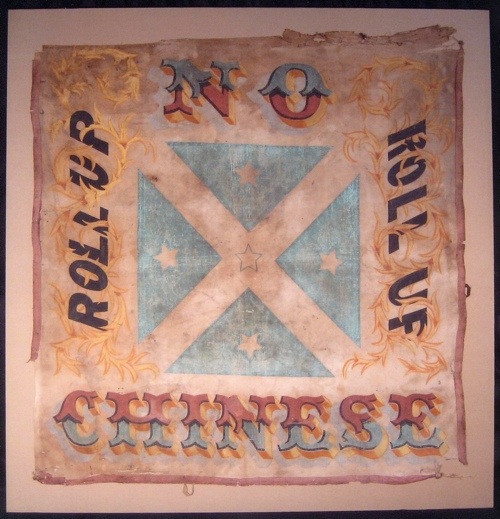 The original flag (at right), as flown at Eureka, is thought to have been designed by a Canadian miner, Henry Ross, and flew over the stockade until torn down by the attacking soldiers. The image of the Southern Cross flag has become one of the enduring symbols of Australia, to the point where it has been promoted as an alternative national flag on several occasions. The flag itself was actually the flag of the Ballarat Reform League, although it is with Eureka that the flag is most commonly associated.
The original flag is held at the Ballarat Fine Art Gallery, but replicas and other versions of the flag have become very common as groups seek to use the flag for their own purposes. The flag has been used by left-wing groups such as trade unions and the Communist Party of Australia, and by right-wing groups such as the Australia First Party.
The Southern Cross appears on the Australian national flag, formally adopted in its current form in 1953. The constellation had been associated with Australia since the early days of European settlement, and is one of the brightest and most obvious constellations visible from Australian skies.
In 1851, three years before Eureka, the Australasian Anti-Transportation League had flown a flag very similar to the modern Australian flag, featuring the British blue ensign and the Southern Cross. This flag, designed by anti-slavery activist and preacher John West, may have been one of the inspirations for the Eureka Flag.
Another inspiration may have been the blue and white flag flown above St. Alipius' Church in Ballarat. During the Lambing Flat riots of 1861, a mob rallied around the Roll Up banner against Chinese migrants, a design based on the Eureka flag.
The Southern Cross also appears, in different forms, on the flags of New Zealand, Samoa, Papua New Guinea and Brazil.